PUSHRIM "CURVE TETRA-GRIPP"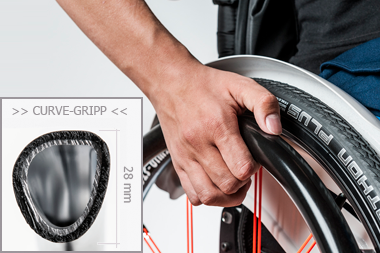 »More Grip, More Power« - the new aluminum profile from CarboLife with our classic Tetra-Gripp-Coating.
The innovative profile shape is larger compared to conventional pushrims with circular cross section and ensures quadriplegics for the first time a significantly larger effective area between hand and grip tires.
Through this the driving on a plain surface and especially on slopes is saving more energy on power and joints, thus ensuring a better and safer handling of the wheelchair.
The large lateral surface on the push rims allows primarily quadriplegics without or with limited finger and wrist function a much safer driving and controlling. Also the increased profile size offers to the functionally limited hand more surface for braking and turning as well as for correcting the direction of travel.
While breaking the pressure is better distributed due to the increased contact surface and less heat will be generated.
Specially coated, ergonomic pushrims for quadriplegics

CURVE TETRA-GRIPP - small profile
| | | | | |
| --- | --- | --- | --- | --- |
| Größe | Ø * | Mounting attachments | Article number | |
| 22" | 461 mm | 6 Riv-nut | 22AG661GT1 | |
| 22" | 465 mm | 6 Tab | 22AL665GT1 | |
| 24" | 502 mm | 6 Riv-nut | 24AG600GT1 | |
| 24" | 515 mm | 6 Riv-nut | 24AG615GT1 | |
| 24" | 512 mm | 6 Tab | 24AL615GT1 | |
| 24" | 520 mm | 6 Riv-nut | 24AG620GT1 | |
| 24" | 523 mm | 6 Tab | 24AL623GT1 | |
| 25" | 535 mm | 6 Tab | 25AL635GT1 | |

CURVE L TETRA-GRIPP - big profile
| | | | | |
| --- | --- | --- | --- | --- |
| Size | Ø * | Mounting attachments | Article number | |
| 24" | 502 mm | 6 Riv-nut | 24LG600GT1 | |
| 24" | 515 mm | 6 Riv-nut | 24LG615GT1 | |
| 24" | 512 mm | 6 Tab | 24LL615GT1 | |
| 24" | 520 mm | 6 Riv-nut | 24LG620GT1 | |
| 24" | 523 mm | 6 Tab | 24LL623GT1 | |
| 25" | 535 mm | 6 Tab | 25LL635GT1 | |
| 26" | 576 mm | 6 Tab | 26LL676GT1 | |
* Rim inner diameter